Details
All you need to get your summer started.
Dates
Engage Chicago 2023 runs from June 20 to August 11. There will be a short orientation program in the days preceding the first official program day, to introduce you to all aspects of Chicago, from its history to its transit system. Orientation details will be provided to accepted students in the spring.
Travel
As a participant, you will receive an unlimited CTA transit card for the duration of the program. The card can be used 24/7 on all city buses and trains, which are easily accessible from the SAIC campus.
You are responsible for travel to and from Chicago at the beginning and end of the program. There is no need to bring a car. As such you are discouraged from doing so, although arrangements can be made if necessary.
Unlimited

CTA Bus

+

Unlimited

CTA Train
Housing
Engage Chicago students live together in a residence hall at the School of the Art Institute of Chicago (SAIC) in the heart of downtown Chicago – right across the street from the historic Chicago Theatre on State Street in the Loop.
Loft-style studio apartments (both single and doubles) are available; and each apartment has its own private kitchen and bathroom. Shared lounges on each floor provide a gathering space for movie nights, discussions, special events and more.
The residence hall provides a 24-hour security, is air-conditioned, and includes laundry and workout facilities inside the building.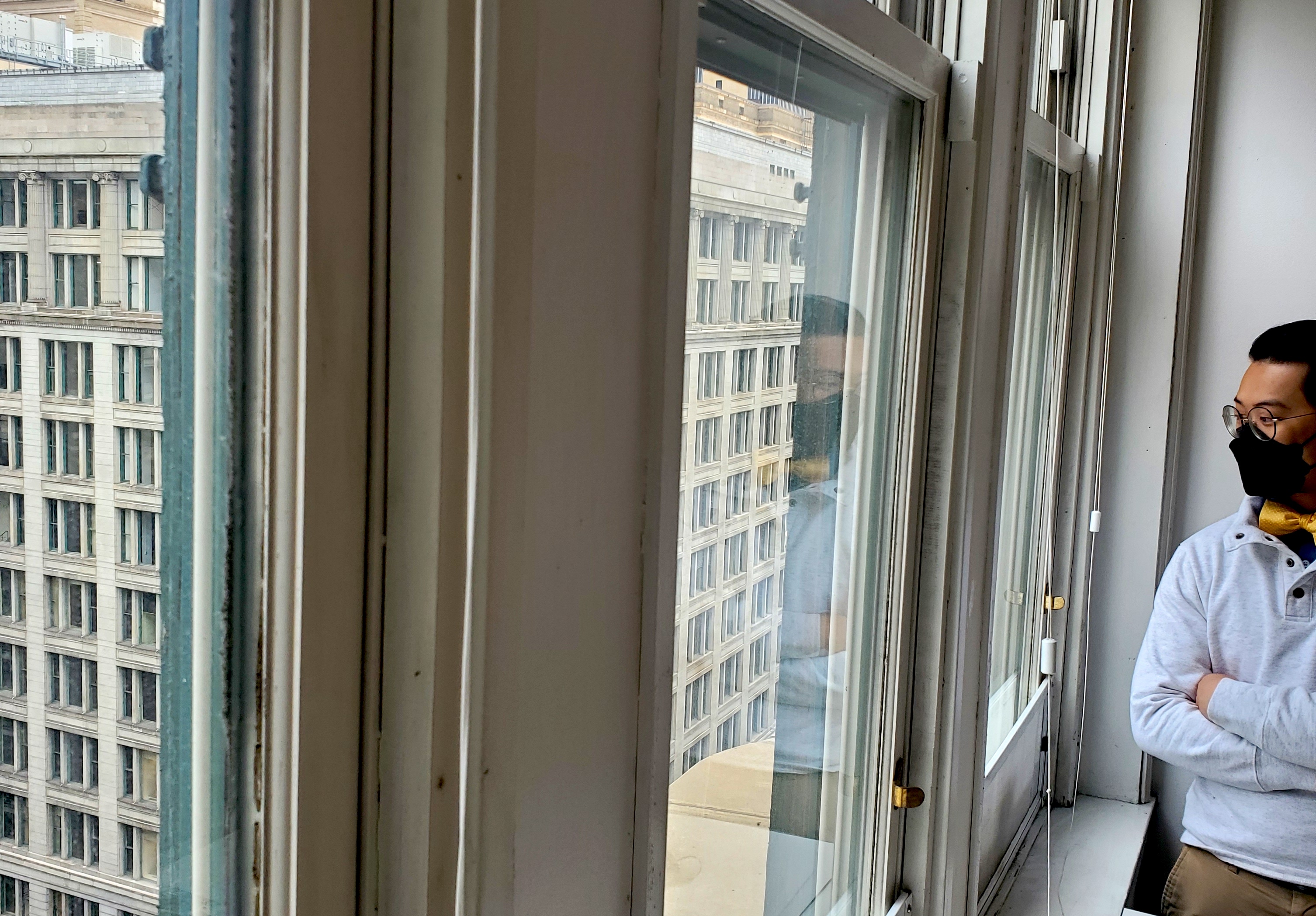 ❮
❯
Academic Credits
All students earn two Northwestern University course credits for their participation in the program. Students interested in earning additional course credits should contact us about the possibility of pursuing a 3- or 4-credit version of the program.
See below for more information about applying credits at Northwestern or transferring them to another institution.
Northwestern Students
Northwestern students receive two Northwestern course credits from Chicago Field Studies (CFS) through the Engage Chicago course, CFS397: Field Studies in Civic Engagement—Engage Chicago. These credits count toward graduation and may also count toward distribution, major and/or minor requirements, depending on your course of study.
Use the following resources to determine how these credits might fit into your academic plan.
Discuss the program with your academic advisor
Contact us if you would like to discuss the course credits or have any additional questions.
Visiting Students
If you plan to transfer credit to another college or university, check with your registrar or advisor to determine the amount of credit your school grants for courses taken at Northwestern. You can find more information about transferring credit on the Northwestern Summer Session website.
Students from across the country regularly participate in the program and transfer the course credits back to their home institution. We're here to help you navigate this process and can assist in a variety of ways, from providing grade reports to speaking with your academic advisor. However, it is your responsibility to work with your home institution to make sure you understand your school's policies and processes for transferring credits.
Contact us if you would like to discuss the course credits or have any additional questions.
Tuition and Aid
We're committed to doing our best to make Engage Chicago accessible to all students, regardless of financial background. In 2023, about seventy percent of our students received financial support through a variety of channels, from financial aid to summer grants.
We know that the process can be confusing, so we work one-on-one with each financial aid student to discuss all available options and determine the best strategy. The process starts upon acceptance into the program, but prospective applicants can get a sense of the financial aid options below.
Financial Aid and Scholarships
Costs
Financial Aid and Scholarships
Substantial financial aid resources and scholarship funds are available to make the program more financially accessible for accepted students. EC staff work with students navigate this process. Any student can seek financial support, regardless of university affiliation or financial aid eligibility. Click below for more details.
Northwestern Students
There are a variety of resources available that may help Northwestern students participate in the program. The best approach to pursuing these resources varies depending on each student's unique circumstances (financial need, aid status, etc.). Accepted students are therefore encouraged to meet with Engage Chicago program staff to discuss options.
Some of the resources that may be available to Northwestern students include:
Northwestern Financial Aid

Northwestern students who receive financial aid during the academic year can apply for summer aid through the Office of Undergraduate Financial Aid. Students apply by completing a brief Summer Financial Aid Application, which will be available through Northwestern's Office of Financial Aid in early spring quarter.

Engage Chicago Scholarship Fund

Students may also be eligible to apply for funding through the Engage Chicago Scholarship Fund. Award amounts vary and typically fall between $2,000 and $6,000. Information about applying for these scholarships will be provided to admitted students.  
Visiting Students
Scholarships and Financial Aid from Home Institutions

Some schools offer financial aid, grants, or scholarships for students completing summer internships, field studies, or other coursework. Students should contact their home institution's financial aid office to discuss possible opportunities.

Some students have also received special scholarships from relevant offices like student activities or career development. These funding sources are typically reserved for students pursuing experiential learning opportunities, internships, or special projects. Contact your advisor or financial aid counselor to inquire about these types of resources on your campus.

Engage Chicago Scholarship Fund

Visiting students can apply for funding through the Engage Chicago Scholarship Fund. Award amounts vary and typically fall between $2,000 and $6,000. Information about applying for these scholarships will be provided to admitted students. 
Summer 2023 Costs
Please note: Summer 2023 University Tuition & Housing Rates are set by Northwestern and our housing partners at the School of the Art Institute of Chicago (SAIC). Rates for Summer 2023 are listed below.
Tuition for two credits

$10,398

Engage Chicago is a two-credit program. Each Northwestern credit is $5,199, bringing the total to $10,398. The first $250 is paid through a deposit upon acceptance.

Housing

$2,920 (double)

or $3,880 (single)

Residential students will be housed at the School of the Art Institute (SAIC) in downtown Chicago. Students can request to live in a single or double room.

Registration fee

(visiting students only)

$50

Northwestern charges visiting students a one-time registration fee.
Students are responsible for travel to & from Chicago and for meals throughout the program.
Frequently Asked Questions
Internship & Placement Process:
Is the internship paid?

No, students receive academic credit for their participation in the program, which includes a part-time internship component at non-profit and public service organizations across the city.

What if I don't get an internship through the placement process?

This has never happened in the history of Engage Chicago. As long as you are responsive to your placement counselor and to the organizations, prepare for your interviews, and remain open-minded throughout the process, we are confident that you will secure an internship.

What if I already have an internship for the summer?

It is likely that you can use this internship as your Engage Chicago placement. To confirm, your placement counselor will ask to speak with your potential supervisor to ensure that the internship fits with Engage Chicago's mission, schedule, and requirements.

Do you work with organizations outside of the nonprofit or public sector?

While we work almost exclusively with nonprofit and public sector organizations, we will occasionally partner with a private sector organization if their work is closely connected to the public good. Since the program curriculum asks students to connect their internship experiences to theories of community development and social change, internship placements must have a civic or public focus.
Room & Board:
Do I have to live on campus?

The short answer is yes. We have found that living in the residence hall allows students to fully immerse themselves in the program and the community. Occasionally, students are granted housing exceptions if they live nearby and wish to live at home with their family. Email us if you would like to discuss possible housing exceptions.

Do I have to pay for meals?

We provide all meals during orientation, and occasionally for special program events including a closing program dinner, but students are responsible for their own meals otherwise.

While meal plans are not available, there is a grocery store nearby and a full kitchen in each SAIC room (as well as a larger, shared kitchen in the building). Most students choose to cook their own meals; some even create cooking groups and share meals. There are also several dining options on campus and countless restaurants nearby.

What are the dorms like?

The EC residence hall is located at the School of the Art Institute (SAIC) in the heart of downtown Chicago across from the historic Chicago Theatre on State Street. All rooms are loft-style apartments with high ceilings, track lighting, and bright windows – and each apartment has its own private kitchen and bathroom. Within a block of the building are all major el lines, and summer-long CTA fare is provided for all EC students. Engage Chicago students are housed together, fostering shared experiences and a sense of community. Laundry is available onsite and students have access to a workout room onsite throughout the summer.

Will I live in a double or single room?

You will have an opportunity to indicate your preference for a double room or a single room (which may be limited by space availability). For 2023, a double room in an apartment is $2,920 and a single apartment is $3,880. 

How are roommates paired?

We will send a Roommate Preference Form to all students living in a double. We will use this form to pair students and connect you with your roommate 2–3 weeks before the program. If you would like to request a roommate, both students should email us regarding the request.
Money & Financial Aid:
How much does Engage Chicago cost?

The primary program expenses are tuition and housing. Rates for 2024 will be updated when they are determined, but tuition for two Northwestern course credits was $10,046 in Summer 2023. Housing was $2,800 for a double or $3,800 for a single. Click here for additional details.

How do I apply for financial aid?

Engage Chicago staff work closely with students to help them pursue a variety of financial aid and scholarship options. Click here for more information. 

Can I extend the deadline for my deposit?

We can likely extend your deposit deadline if there is an extenuating circumstance, such as an outstanding financial aid decision. Contact our office to request an extension.

Can I have a part-time job during the summer?

This may be possible, especially if your work hours are limited to weekends. Part-time jobs that might impact your availability during program components must be discussed with staff prior to the start of the program.